Help support Gabby Murillo ON her road to recovery.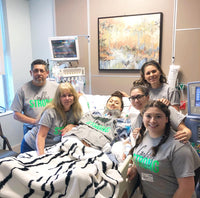 Read more about Gabby's story.
On June 16, 2019 Gabby was in a horrific  car accident that has changed her life forever.  Gabby and her friend were at a complete stop when they were rear ended by a "careless" driver.  The result of this horrific event has left Gabby with a spinal cord C3, C4, & C5 vertebrae injury along with her nerves completely severed.  Gabby is paralyzed from the neck down
The entire Murillo family is blown away by the outpouring love and support from family, friends, the community and even strangers.
Thank you for all who have shown their love, support, and prayers so far. We appreciate and are grateful for each and every one of you who continue to reach out or extend your hand for us. We are taking each day as it goes, hoping for the best and keeping a positive outlook. We believe miracles do happen. "All you need is faith, trust, and a little pixie dust" ✨
For updates on Gabby's road to recovery, please join the facebook group: https://www.facebook.com/groups/1099175706946139/